Missed the webinar?
Get your recorded version here.
About Marina Ivanovic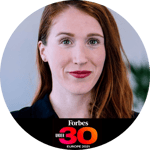 Former Head of Recruitment at Kolibri Games
Forbes 30 Under 30
Marina Ivanovic is on a mission to change the world of diversity hiring using data and is not only former Head of Recruitment at Kolibri Games but also Forbes 30 Under 30 recipient. She is striving for more diversity in the workplace and is on a mission to change the world of diversity hiring using data. Away from the office, she's partnered with Google to hold workshops and seminars that promote and empower women in the gaming industry.
How to hire more women in Tech
Let's face it: Monoculture is bad for your business! Historically, the tech sector has been white, young and male. Over the past few decades, the industry has worked hard to convince women to start careers in Tech. A McKinsey & Company report suggests that diverse and inclusive companies are 33% more successful, 1.7 times more likely to become innovation leaders in their field and significantly more likely to attract top talent.
Hence, inclusive hiring is not just a buzzword, but a key strategic tool in human resources leading to better performing teams, happier employees and higher revenues. Recruiters using HR technology, will reach out to more candidates from different demographics and keep their unconscious biases aside, ensuring diversity in their talent pool.
In this webinar, Marina Ivanovic will talk about how Artificial intelligence has a positive impact on reducing hiring bias and building a more diverse candidate pipeline. The usual criteria for candidate screening such as their educational qualification often decreases the diversity of the candidate pipeline. However, AI-powered gamified assessments provide a level playing field, giving all candidates an equal opportunity to land their dream job.
Key learnings
You'll also get to ask questions and learn about
Hiring using data to eliminate biases

AI-powered recruitment systems

Leveraging HR technology to keep unconscious biases aside

TA initiatives that worked well for Kolibri Games

Implementing successful inclusive strategies
We look forward to seeing you in our webinar!
At Kenjo, we love to help businesses improve delivery against their most important people – and business – outcomes. Learn more about our recruitment software during a free trial.